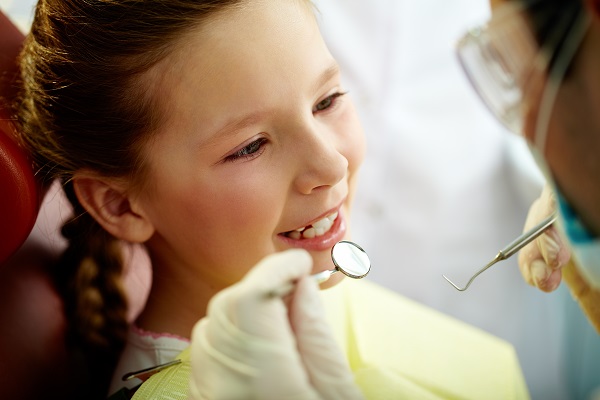 A kid-friendly dentist treats the specific oral care needs children have. They focus on the prevention of dental cavities and other common oral health concerns, along with educating child patients on how to practice good oral hygiene to help them establish habits that can last into their adult years.
The benefits of a kid-friendly dentist for your child
The benefits a kid-friendly dentist can provide that other dentists may not be able to perform at the same level include a reduced risk of the child developing dental anxiety, specialized services for children, a focus on oral hygiene education, and good communication with children and their parents.
Bad childhood experiences with the dentist could lead to dental anxiety
Bad childhood experiences can have a profound impact on children and can lead to the development of dental anxiety or dental phobia. Some dentists who do not have many younger patients do not exactly have the best communication skills with children and an understanding of how children think and feel. A kid-friendly dentist and their staff, however, understand how to make children feel more comfortable and relaxed during each dental visit, reducing the risk of them having a bad experience and being more hesitant to visit the dentist for the next check-up.
A kid-friendly dentist can offer specialized services for children
Dentists who do not typically treat children may not offer all of the services a child needs. For example, kid-friendly dentists focus heavily on the prevention of oral health concerns. Issues such as dental cavities are often more common on primary teeth. Subsequently, a kid-friendly dentist may recommend dental sealants to protect the more vulnerable teeth, whereas a general dentist that primarily treats adults may only treat the cavities after they develop.
Education of good oral hygiene is a focus of a kid-friendly dentist
Another benefit kid-friendly dentists offer is a focus on educating children on how to practice good oral hygiene. A consistent oral care routine is something that must be developed. Kid-friendly dentists, along with their parents, help children understand the importance of brushing, flossing, and using mouthwash regularly and what foods can increase the risk of oral health concerns.
Parents can feel more confident about their child's dental care
Parents are often even more nervous about a child's dental visits than the child as they want so badly for them to have a pleasant experience (and understandably so). By visiting a dentist that goes the extra mile to make children and their parents feel comfortable and has a good reputation within the community, parents can relax and feel confident that their child is in good hands when at the dentist.
Are you searching for a kid-friendly dentist for your child?
The best way to determine if a kid-friendly dentist is right for you is to schedule a consultation visit. During the first visit, you and your child can discuss and begin treatment and receive answers to any questions may have. Feel free to reach out to our kid-friendly dentist team today if you would like to schedule a consultation for your child.
Request an appointment here: https://www.implantdentalbellevue.com or call Bellevue Implant & Cosmetic Dentistry at (425) 249-9186 for an appointment in our Bellevue office.
Check out what others are saying about our dental services on Yelp: Kid Friendly Dentist in Bellevue, WA.
---
Related Posts
November 8, 2022
Seeing a dentist for kids is an incredibly important childhood activity. Kids' dental care can prevent and stop many oral issues before they become serious or irreversible. Dental treatment for children …