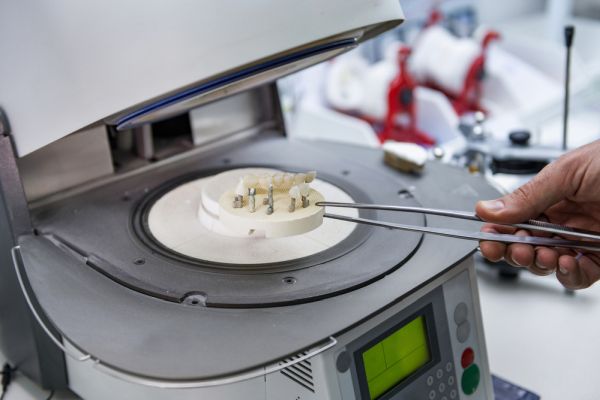 Having to wait weeks before getting your permanent crown is a thing of the past, thanks to CEREC crowns. When you think of getting a crown put in, you might instinctively prepare yourself for a long wait time between tooth preparation and crown placement. Traditional crowns can take anywhere from days to weeks to complete. In that time, a temporary crown is placed to protect the tooth. Conventional crowns make for an uncomfortably long process, but CEREC crowns are changing the way that dentists restore teeth.
What are CEREC crowns?
Due to advanced technology, these speedy crowns allow patients to skip the wait. CEREC crowns are made in-office, in just one appointment. That means patients can go from a broken tooth all the way to a fully restored smile in just two hours.
CEREC stands for Chairside Economical Restoration of Esthetic Ceramic. These crowns are a vast improvement from the traditional dental crown, in the way that they are made, their fit and their lifelike appearance.
What to expect at your appointment
Crowns are meant to cover and protect weakened, damaged or decayed teeth. The tooth or teeth in question will need to be cleaned and prepared before crown placement. Once in the dentist chair, patients can expect the dentist to administer a numbing agent to the tooth before any procedure takes place. If getting a root canal or having tooth decay removed, any tooth-saving treatment will be completed before the crown process can move forward.
Once the tooth is treated and shaped, the dentist will then take a digital impression of the mouth. Using a computerized system known as CADCAM (Computer-Aided Design/Computer-Aided Manufacturing) technology, an accurate image is created of the teeth. This digital impression is then sent to an in-office milling machine. The crown is created chairside and is ready for placement soon after the tooth is prepared.
Inside the milling machine, a small, solid ceramic block is shaped and cut into a precise model set by the measurements in the digital impression. Since these measurements are so accurate, the crown comes out of the machine ready to be placed with a perfect fit and optimal aesthetics.
Finally, the CEREC crown is completed. The dentist takes the newly created crown and places it directly onto the prepared tooth. There is no need for a temporary crown, as the permanent CEREC crown is ready to be placed in the same appointment. Instead of having to get a temporary crown and wait for the lab to create the permanent one, CEREC crowns cut out the wait times and allow patients to have a permanent crown in just one appointment.
After you receive the crown, follow all instructions given by the dentist to ensure a comfortable, successful recovery period. As with traditional crowns, there may be some form of sensitivity. Over-the-counter pain medications such as ibuprofen will help to eliminate any pain or swelling.
Need a crown put in?
Our office is one of the few in the country that is certified to perform CEREC crown restorations. Instead of going somewhere else and wasting your time waiting for a permanent crown, come into our office and get a same-day CEREC crown. Give us a call today to set up an appointment and get the smile you have always wanted.
Request an appointment here: https://www.implantdentalbellevue.com or call Bellevue Implant & Cosmetic Dentistry at (425) 249-9186 for an appointment in our Bellevue office.
Check out what others are saying about our services on Yelp: Read our Yelp reviews.
---
Related Posts
December 1, 2022
When you begin wearing dentures, you may experience discomfort for a short period while you are adjusting. However, this process does not have to be complicated. There are many ways to …