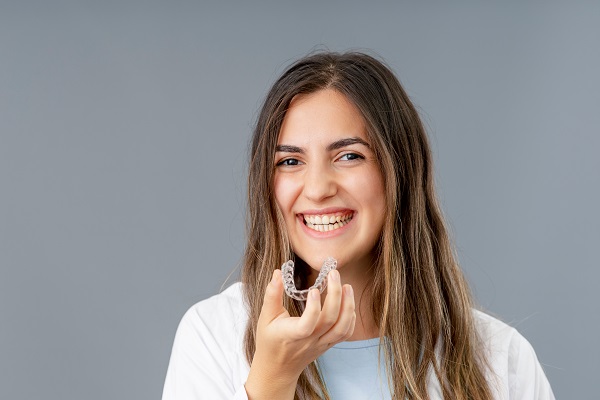 Invisible braces are a variety of orthodontic treatments. Orthodontic braces realign and straighten the teeth. A lot of people have braces during adolescence when the jaw is still malleable. Braces reposition overcrowded teeth and straighten crooked ones.
What are braces?
Orthodontic braces consist of a number of metal bases and a retaining wire. The bases are fixed to individual teeth and the retainer runs along them. Gradual adjustments to the brace realign the teeth, creating a straight smile. The treatment takes a long time, typically from 18 to 24 months. How long depends on the patient's age and the condition of their teeth.
What kinds of invisible braces are available?
Traditional metal braces are visible in the mouth. While the end result is aesthetically pleasing, the treatment itself is not. This is why some people are reluctant to undergo orthodontic treatment, no matter the benefits. Invisible braces offer a straighter smile without using unsightly metal fixtures.
Ceramic braces are the same basic design as conventional braces. However, these braces use white ceramic bases rather than metal. They may also use a white retaining wire. Ceramic braces blend better with the natural color of the teeth. Ceramics are not quite invisible braces and are less noticeable than conventional orthodontics.
Inside braces are similar to conventional orthodontic braces but are set on the inner faces of the teeth. As such, these braces are not visible when the wearer smiles.
Clear aligners are transparent armatures custom-made to the patient's mouth. These aligners are worn over the teeth and exert constant gentle pressure. Over time, the teeth shift, becoming straighter and better spaced. Unlike fixed braces, clear aligners are put on and removed daily. The dentist designs the custom aligner. But, wearing them daily is on the patient's responsibility.
Pros and cons of invisible braces
Invisible braces can be used to treat overcrowded, widely spaced and crooked teeth. They are less suitable for complex dental problems. Invisible braces tend also to be more expensive than conventional options. Treatments can also take longer.
Ceramic braces are less durable than metal ones. The treatment also takes longer. These braces may also cause the same irritation or discomfort as regular braces. Ceramic braces are also more expensive than other alternatives.
Inside braces are a relatively new treatment. These invisible braces present more issues with discomfort and may affect the wearer's speech. Inside braces can also present difficulties cleaning. Like regular braces, inside braces are fixed in place and cannot be removed until treatment is complete.
Clear aligners are less invasive than other invisible braces. While the pressure on the teeth may present discomfort, there is no risk of them poking or snagging inside the mouth. That they can be removed makes dental hygiene much easier than with other invisible braces. On the downside, clear aligners can be misplaced in a pocket or otherwise lost. The patient must also keep up the habit of wearing them for the treatment to be effective.
Where to get invisible braces fitted
Consult with your dentist about invisible braces. Orthodontic treatment is a long-term process but has lifelong benefits. Invisible braces offer a range of options without the issues of regular orthodontics. Contact your dentist to find out if invisible braces are suitable for you.
Request an appointment here: https://www.implantdentalbellevue.com or call Bellevue Implant & Cosmetic Dentistry at (425) 249-9186 for an appointment in our Bellevue office.
Check out what others are saying about our dental services on Yelp: Invisible Braces in Bellevue, WA.
---
Related Posts
January 4, 2021
You have probably heard people talk about Invisalign® clear aligners as a method for straightening teeth. Many patients are choosing this treatment instead of traditional metal braces. You may have some questions about what these …