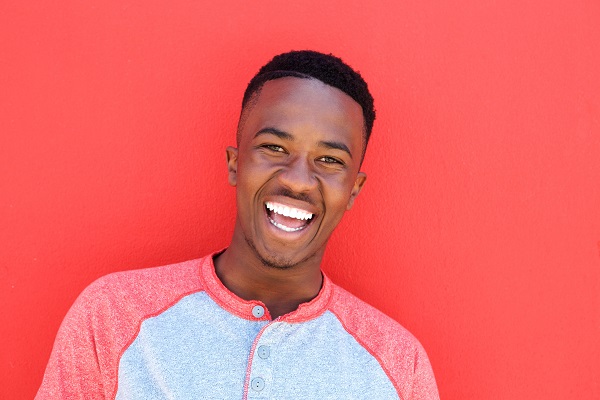 If a dentist recommends a tooth-colored dental crown, then they are most likely referring to a ceramic crown. This type of crown is generally used for more visible teeth in the mouth that are used less for chewing purposes. A porcelain fused to metal crown, which also closely matches the color shade of natural teeth, may be recommended as well.
Reviewing the tooth-colored dental crown material
Tooth-colored dental crowns are ideal for improving the appearance of one's smile and protecting a damaged tooth from further harm, but they are not always the best solution. It is helpful to understand how tooth-colored dental crowns work in order to make an informed decision if they (or an alternative material) are right for a patient.
What is a tooth-colored dental crown made of?
A tooth-colored dental crown is made of porcelain material. They are commonly referred to as ceramic dental crowns. The dentist can ensure that the material closely matches the shade of the surrounding natural teeth so the crown is indistinguishable from a natural and healthy tooth.
Are there any disadvantages to using a tooth-colored crown?
A common question that dentists receive is, "If ceramic crowns closely resemble the natural shade of teeth, then why are they not used on every occasion?" Unfortunately, while they look aesthetically pleasing and are relatively durable, they do not have the same level of strength as other crown types, such as porcelain fused to metal and metal alloy crowns. Subsequently, dentists often recommend stronger crown types for teeth that are less visible but used more for chewing purposes.
When might a dentist recommend a tooth-colored dental crown?
Tooth-colored crowns are not ideal for molars or premolars in most cases. Instead, a dentist might recommend tooth-colored crowns for highly visible teeth in the front of the mouth. These teeth are typically used less for chewing, so tooth-colored crowns work well and should remain durable for many years.
How long do tooth-colored dental crowns last?
Tooth-colored crowns last on average between 10 and 15 years. However, the longevity of ceramic crowns varies based on the location of the teeth and how well the patient cares for them.
Caring for a tooth-colored dental crown in the long term
Patients can protect their tooth-colored dental crown by brushing, flossing, and using mouthwash regularly. Limiting consumption of foods and drinks that may damage the teeth or gums is also important. For patients who struggle with bruxism (grinding teeth at night), it is important to wear a dentist-prescribed nightguard. Regular dental visits are also crucial for keeping the crown, surrounding teeth, and gums clean and healthy.
Talk to our friendly team today about tooth-colored dental crowns
If you are considering a tooth-colored dental crown to restore the appearance and health of a damaged or stained tooth, then contact our team today. We can schedule a time for you to visit with our team and discuss all available restoration options.
Request an appointment here: https://www.implantdentalbellevue.com or call Bellevue Implant & Cosmetic Dentistry at (425) 249-9186 for an appointment in our Bellevue office.
Check out what others are saying about our dental services on Yelp: Dental Crown in Bellevue, WA.
---
Related Posts
January 1, 2023
A tooth with significant damage will need a dental crown or cap. This restoration can restore the form and function of your tooth. Getting a large filling or a root canal …