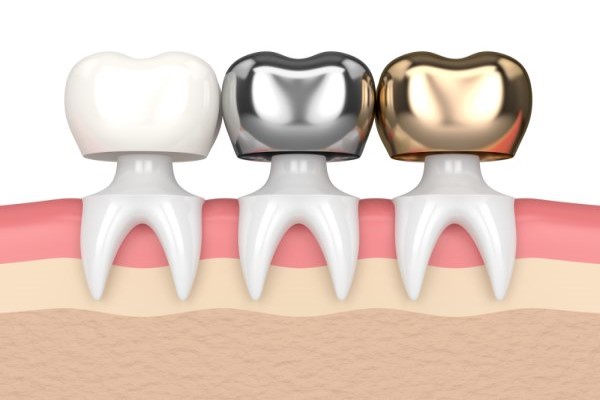 If you are going to get a crown, you have a few options for this type of dental restoration. For example, you might choose a metal one. Or you might want one that is designed to match your tooth color. Read on to learn more about dental crowns.
About dental crowns
A crown can restore a tooth that is diseased or damaged. The crown can extend the functionality of the tooth. It can also be used to cap a dental implant. Many crowns can last longer than the estimated five to 15 years.
One study examined porcelain fused to metal crowns. The study found that this type of dental restoration lasted a long time. Over 85% lasted for more than 25 years. After 10 years, 95% of them were still stable.
Metal options for dental crowns
A gold dental crown is not made out of pure gold. The patient might choose from porcelain fused to metal, silver or other metal alloys. Generally, dentists consider metal or gold crowns to be more compatible with the patient's teeth. The tooth that is capped will not be as likely to damage the surrounding teeth because of excessive wear.
A metal alloy is more durable than other types of materials. However, one of the issues of this type of crown is the color. It is not the same color as the surrounding teeth. Many people do not want to have a silver or gold crown in the front teeth.
Porcelain fused to metal
For a strong but natural crown, patients might choose a porcelain that is fused to metal. However, in some cases, the metal can show as a darker line near the gumline. The dentist can add a layer of white color to prevent the metal from showing. This could be a good option for a tooth in the back.
This type of crown can chip or break. This results in an uneven appearance. Patients will want to take care of this dental restoration. Avoiding hard foods is one way to do this.
Ceramic and porcelain crowns
These types of crowns are made in layers. This finishing technique can give this dental restoration a more translucent appearance. That makes it look more like the natural teeth. These crowns can be colored and designed to look like the nearby teeth.
A dentist might recommend a porcelain or ceramic crown for the front teeth. These teeth are more visible. Because they do not take as much chewing force as the back teeth, a slightly weaker material can be used. People who have metal allergies may also benefit from using this type of dental restoration.
Visit a dentist for a dental restoration
Crowns remain a vital part of your dental restoration options. You have several color options that you can choose from. There are also several types of materials that you can use. Making an appointment with your dentist today will allow you to take the first step.
Request an appointment here: https://www.implantdentalbellevue.com or call Bellevue Implant & Cosmetic Dentistry at (425) 249-9186 for an appointment in our Bellevue office.
Check out what others are saying about our dental services on Yelp: Dental Restorations in Bellevue, WA.
---
Related Posts
June 15, 2023
People who are diligent with oral hygiene may still experience tooth decay or damage that requires dental restorations. Even what may appear to be minor damage should be addressed and repaired …