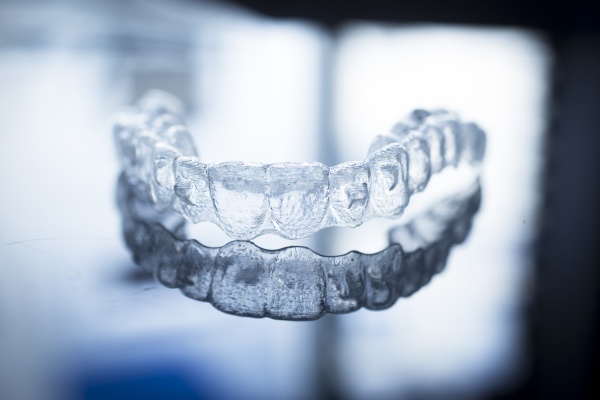 Clear aligners have emerged as a popular and favorite means of straightening teeth. There is no reason to live with crooked teeth. Furthermore, you should not have to don ugly braces to straighten out crooked teeth. Opt for clear aligners, and you will find that no one knows you are using a teeth straightening solution. Just as important is the fact that these see-through aligners really will gradually move your teeth into the proper positions.
The Magic of Clear Aligners
Clear aligners, like Invisalign, are an alternative to conventional metal braces. Clear aligners guide teeth to the proper spaces in your mouth. Similar to braces, these transparent aligners apply gradual force to move teeth into the optimal positions. However, there is no need to use ugly and outdated metal brackets and wires as are required with regular braces. If you decide to take the clear aligner route, you will rely on durable plastic aligners designed to fit your nuanced mouth. You will gradually switch aligners as the treatment progresses. Each new aligner is unique to help in assisting the transitions. Your teeth will slowly move into the proper position as you progress through the different stages between clear aligners.
Commit to Your Clear Aligners, and You Will Notice Results
If you wear your clear aligners for a minimum of 20 hours per day, they will straighten your teeth. Abide by the aligner replacement schedule as dictated by your dentist and your teeth will be in the proper positions in as little as six months. However, there is also a chance it could take a couple of years to get your teeth in the right positions.
The Benefits of Clear Aligners
Those who desire a straight smile yet are self-conscious about metal braces will find clear aligners to be the optimal solution. Furthermore, those who have gone through prior treatments and desire minor alterations to their smile will also enjoy clear aligners. This approach to straightening wayward teeth requires minimal maintenance, proves quite comfortable and is unlikely to damage the gums or cheeks.
Clear aligners are very easy to keep clean. Furthermore, these aligners are flexible. You can remove your clear aligners at any point so you can floss and brush your teeth after meals as desired. Consider an instance in which you have a special occasion to attend. As an example, if you are scheduled to be in a wedding, you can remove your clear aligner for that event and pop it right back in once the festivities are over. It does not get any more convenient than that.
Clear aligners should also be credited as they guard against wear on the teeth resulting from grinding. In the end, you have just about nothing to lose and everything to gain by giving clear aligners a try. Speak with your dentist about clear aligners the next time you are in the office or schedule an appointment so you can discuss this approach to teeth straightening with your oral health professional.
Request a dental appointment here: https://www.implantdentalbellevue.com or call Bellevue Implant & Cosmetic Dentistry at (425) 249-9186 for an appointment in our Bellevue dental office.
---
Related Posts
June 18, 2019
If you have crooked or crowded teeth, you may have considered orthodontic treatment. Perhaps you have decided to go through with getting your teeth straightened. There are many benefits to having properly aligned teeth. These …
---