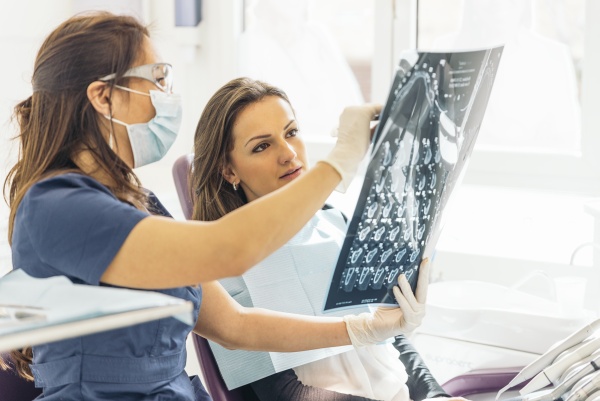 Dental implants are quickly becoming the conventional method of replacing a lost tooth. While you conduct your search for a suitable tooth replacement, you should be aware that there is a difference between dental implant specialists and general dentists. These are dentists that offer dental implant placement along with cosmetic, restorative and general dentistry.
Questions about dental implants
If you have booked for an implant dentistry consultation, the following are questions you need to ask the implant dentist.
What is your level of experience with this procedure?
When you go to a dental office for a major dental procedure, you should ask the dentist about their educational and clinical experience. It is essential to use a dentist that does the implant placement regularly. This means they have more skills and exposure to ensure that the procedure goes smoothly.
Is the procedure going to be entirely in-house or a collaborative effort with an oral surgeon?
Every dental office has its treatment process. For some, the entire procedure, from placing the implant to fusing the crown, will be done in-house. Other dentists will only place the crown. This is the essence of knowing if you will be working with different specialists or if a single dentist will perform the entire procedure.
Is it possible to repair a dental implant with a damaged crown?
If you have had dental implants installed, but damaged the crown on it, then you may be suitable for a dental restoration that involves the crown only. This is an easy and cost-effective way of solving the issue. Therefore, ask to know if the dentist offers restorative services before commencing the procedure.
Who is a suitable candidate for a dental implant procedure?
Dentists recommend dental implants for different reasons. The major deciding factor for eligibility is health. If any other oral health issue is present, they need to be corrected first. Since implant placement is a surgical procedure, it is vital to commence it with healthy teeth and gums.
The other deciding factor is bone mass. The dentist will take X-rays to check if there is enough bone density for the implant placement. If it is not, a bone graft procedure may be necessary before the placement.
What is the duration of the procedure?
The duration depends on the number of implants involved. Typically, it takes about an hour to place a single implant. This means that if you are missing several teeth, multiple dental office visits may be necessary.
After the metal posts are in place, you will have to wait a few months to allow osseointegration. This is a process where the bone fuses with the metal to create a strong, sturdy root for the prosthetic tooth. This waiting period ensures that the final teeth are just as strong as the natural one. After this period, the dentist will place the new crown to the abutment connected to the implant, and this takes a shorter time.
What is recovery like?
In preparation for dental implants, you should have ice packs, painkillers (Ibuprofen) and soft consumables. Your gums will be sore in the first few days. Thus the ice and Ibuprofen will help alleviate pain and any swelling. You will need at least three days to recover after the procedure.
Request an appointment here: https://www.implantdentalbellevue.com or call Bellevue Implant & Cosmetic Dentistry at (425) 249-9186 for an appointment in our Bellevue office.
Check out what others are saying about our dental services on Yelp: Dental Implants.
---
Related Posts
July 5, 2019
Do you consider dental cleaning as important as a visit to other health care providers? If you have not placed a priority on these appointments, it is time to consider the value of a visit …