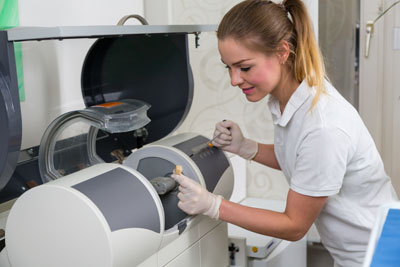 CEREC® dentist uses CERamic REConstruction technology to address a wide range of dental issues you might be dealing with. We complete the entire procedure under one roof, in one day.
Traditionally, you would have to visit your dentist multiple times to have damaged, decayed or injured tooth or teeth fixed. With CEREC®, various dental procedures can be done within one day, including dental inlays/outlays, bridges, and crowns.
Same day dental procedures
There are various dental procedures that require us to visit the dentist more than once. For example, traditionally, you will be required to visit your dentist more than two times for a dental crown treatment, typically waiting several weeks for your next visit.
Today, your CEREC® dentist can perform this procedure within one day.
A dental crown completed using this technology is ready for installation within an hour after the tooth/teeth preparation process.
CEREC® uses computer-aided-design, also known as CAD and computer-aided-manufacturing, also known as CAM. These technologies allow your dentist to accurately customize your dental device to your specific needs.
The importance of CEREC® technology
Here are some common reasons why an increasing number of people are choosing same day procedures over traditional ones.
CEREC ensures:
You spend less time visiting your dentist

Your dentist has access to better images that are used to address your issues

Your device will be made from high-quality ceramics

You prosthetic will look just like your natural teeth

You don't have to bother with a temporary crown
How to determine if a CEREC® dentist is right for you
If you have a decayed or damaged tooth or teeth and are looking for a better way to have it fixed within the shortest time possible, CEREC® dentistry is your best choice. When you visit a CEREC® dentist, he/she will have a look at the condition of your teeth and determine if you are a good candidate for CEREC® dentistry.
If your issue is something that can be addressed with inlays/onlays, crowns, and bridges, you probably are.
Common issues that can be addressed by any of these devices include:
Damaged teeth

Seriously decayed teeth

Injured or broken teeth

Stained or discolored tooth or teeth

One tooth replacement
How to take care of your CEREC® restoration
What's next after you have successfully had your procedure done? Well, it's now your responsibility to take care of it. Luckily, taking care of your prosthetic is not complicated; you need to do what you always do with the rest of your teeth. Brush two times a day for about three minutes, floss at least once in a day, listen to the care tips your oral professional gives you, and most importantly, visit your dentist as advised.
Think you are a good candidate for a CEREC® dentist? Contact Bellevue Implant & Cosmetic Dentistry at (425) 249-9186 to find out more about what this procedure entails.
---
Related Posts
December 1, 2021
One of the best ways to repair a damaged tooth is with a CEREC® crown. Also known as Chairside Economical Restoration of Esthetic Ceramic, this is a method of dental restoration that …
---