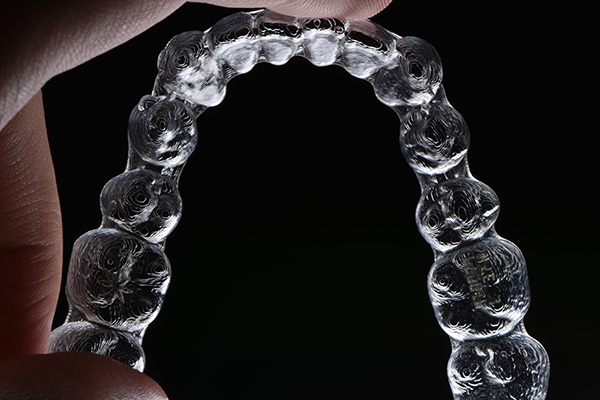 Patients who need teeth straightening but do not like the idea of wearing metal braces for two years may find Invisalign® to be an attractive alternative. Clear aligners can often achieve the desired tooth alignment in less time than traditional metal braces.
Invisalign® vs. metal braces
In addition to the difference in length of treatment, there are several pros and cons for each method of teeth straightening. A dental professional can help patients choose the treatment option that is right for them.
How the treatments work
When traditional braces are used, metal brackets are glued to individual teeth and wires are passed through the brackets. The pressure exerted by these wires gradually moves the teeth into the desired position. As the teeth move, the braces may need to be adjusted by a dental professional during the monthly follow-up visits.
With Invisalign® aligners, a 3D image is made of the teeth. This image is then used to manufacture a set of clear, BPA-free plastic aligners. These aligners exert gentle pressure on the teeth as a whole to move them into the desired position. The aligners are changed every two weeks as the teeth change position and follow-up appointments are required every four to six weeks.
Length of treatment
Most patients wear braces for two years. Invisalign® treatments generally take between six to 18 months when the aligners are worn between 22 and 24 hours per day. When the aligners are worn less often, treatment usually takes longer. The aligners can move teeth faster than braces because of exerting force on the teeth as a whole, rather than on individual teeth.
Benefits of metal braces
The primary benefit of metal braces is that because patients have no choice about taking them off, there is no risk of the treatment being affected by not wearing them enough. Patients likewise do not need to worry about losing their braces, and they can be cleaned with regular tooth brushing.
Metal braces can be used to treat some complex dental issues that clear aligners may not be able to address. Braces are available in a variety of colors, including tooth enamel colors that make the brackets less noticeable and bright colors that often appeal to teenage patients. While braces do require occasional adjustment, they do not need to be changed every two weeks the way clear aligners do.
Benefits of Invisalign®
Clear plastic aligners are much less noticeable than braces and are designed to be nearly invisible. Most patients find these aligners to be more comfortable than braces and less likely to cause injuries to the mouth. The aligners are removable, which makes it easier to eat and drink certain foods.
Conclusion
Invisalign® aligners are a discreet way to straighten the teeth that may produce results in less time than traditional metal braces, provided the patient wears them regularly as required. However, some complex issues may need to be treated with metal braces.
Are you considering Invisalign® in the Bellevue area? Get more information at https://www.implantdentalbellevue.com.
Check out what others are saying about our services on Yelp: Read our Yelp reviews.
---
Related Posts
December 1, 2022
When you begin wearing dentures, you may experience discomfort for a short period while you are adjusting. However, this process does not have to be complicated. There are many ways to …