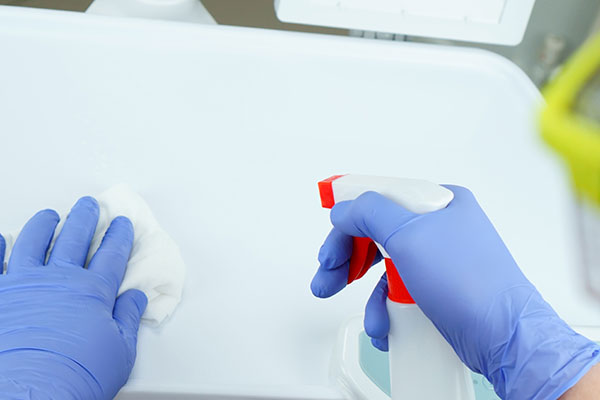 Sterilization and disinfection are important infection control measures to ensure that medical and surgical tools do not transmit infections to patients. Several studies have shown that lack of compliance with established guidelines for infection control can cause outbreaks in both dental and medical facilities. This article addresses how sterilization and disinfection for dental practices keep patients protected from infectious diseases.
How infections spread in dental facilities
Both dental professionals and patients are at risk of exposure to pathogens, including bacteria and viruses that affect the oral cavity and respiratory tract. Dental practices tend to carry the risk of COVID-19 due to the nature of their procedures, which involves face to face interaction with patients, regular exposure to blood, body fluids and saliva. Additionally, the use of sharp dental tools can create infection risks.
The pathogenic microorganisms can be transmitted in dental offices via inhalation of airborne microorganisms that can stay in the air for some time, direct contact with oral fluids and blood, or contact of nasal, oral mucosa and conjunctival with aerosols and droplets containing pathogens from an infected patient or expelled from a distance by coughing or talking without a face mask. Also, a person might be infected from direct or indirect contact with contaminated instruments and environmental surfaces, thus making infection control very necessary.
All these mediums pose a risk of infection from an infected person in the dental practice, particularly with the coronavirus outbreak. The coronavirus is known to persist on surfaces like metal, glass or plastic for some days, which means contaminated surfaces that are regularly touched are a possible source of coronavirus transmission.
Protecting patients
Thorough dental sterilization and disinfection practices in dentistry protect patients, dentists and the entire dental team. They stop the growth of pathogens on instruments and surfaces around the dental practice. These infection control measures also ensure that the germs in a patient's mouth do not affect anyone else and that no patient can pass anything to the next patient through the dental chair's surface.
When proper sterilization is not used, pathogens can pass from one person to another. Improper sterilization and disinfection can cause sicknesses like COVID-19 and may lead to severe complications for patients with preexisting conditions. Infection control consisting of sterilization procedures can save patients' lives.
Therefore, the dental office takes many precautions. Every sterilized instrument remains wrapped until they are ready for use. Every surface area is prepared adequately to ensure that the only germs on them are from the current patient. After every examination and procedure, every disposable item used will be disposed of properly in biohazard containers. Also, every member of the dental team will wash their hands before and during dental appointments, which is a critical part of infection control in dental offices.
Sterilization and disinfection
Dental assistants have a crucial role in performing proper sterilization of dental instruments and ensuring that the dental area is safe and sterile for the examination. To keep every equipment clean and sterilized, the dental team follows the best practices and processes recommended by the CDC.
Infection control processes
The safety of every patient is of utmost importance, especially during the COVID-19 outbreak. Sterilization and disinfection procedures in the dental office protect patients against cross-infection and inspire confidence in patients.
Request an appointment here: https://www.implantdentalbellevue.com or call Bellevue Implant & Cosmetic Dentistry at (425) 249-9186 for an appointment in our Bellevue office.
Check out what others are saying about our services on Yelp: Read our Yelp reviews.
---
Related Posts
August 5, 2020
If you have a cracked, discolored, or chipped tooth, dental bonding can be a good option. This is a cosmetic dental procedure and can encourage you to smile more. In the procedure, your dentist will …