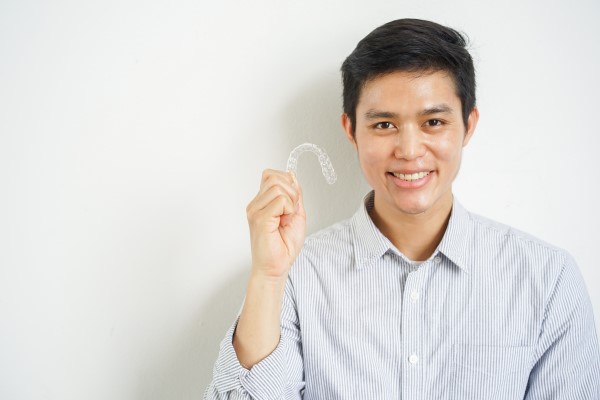 You have probably heard people talk about Invisalign® clear aligners as a method for straightening teeth. Many patients are choosing this treatment instead of traditional metal braces. You may have some questions about what these aligners do and why they might be a more effective choice for your needs. There are benefits to doing this treatment. The more you understand what the process looks like, the more comfortable you can be with it.
Common problems that Invisalign can address
Many different cosmetic and oral health concerns can affect a person's smile. People have long looked to teeth-straightening methods to correct crooked teeth. Clear aligners can accomplish this goal for teen and adult patients. The aligners can also help patients who struggle with misshapen teeth, abnormally small or large teeth, and severely worn teeth. This treatment can also work effectively for people with minor bite abnormalities.
An overview of clear aligners
Invisalign clear aligners are clear plastic trays that fit over a person's teeth. The appliance is much like a mouthguard that an individual would wear. Such guards are useful while playing sports or to discourage nighttime teeth-grinding. The trays consistently put pressure on ligaments of the teeth, causing the teeth to gradually move into the desired position. Patients will get a new set of aligners at every appointment, usually every couple of weeks.
Getting started
Before beginning Invisalign treatment, a prospective patient will meet with the dentist. The dentist will discuss how the process works and whether the person is a good candidate. The dentist will also take X-rays and make impressions of the person's teeth. This enables the dentist to make a treatment plan and determine how much work the individual will require to produce the right results.
Wearing the trays
Once the Invisalign trays are ready, the patient will come into the office for a fitting. The dentist will ensure the aligners fit comfortably and properly. It will take a few days for the patient to get used to the appliance. Unlike braces, the trays do not have to stay in the patient's mouth all the time. The dentist will instruct the person to keep them in for 21 to 22 hours a day. The person should remove the trays while eating.
Treatment length
One of the advantages of Invisalign over braces is that the patient should have a straighter smile faster. Most people must wear braces for two to three years. However, treatment with clear aligners can be as short as one year or less. The patient will come in for appointments every week or two. At these visits, the dentist will check on the treatment progress and discuss any concerns the person has.
An effective way to change your appearance
It can be embarrassing to have crooked teeth, bite problems, and other aesthetic issues with your teeth. The good news is that with Invisalign clear aligners, you can get that gorgeous smile you have been looking for. The trays are comfortable and effective. Within several months, you can notice a difference and achieve your goals.
Request an appointment here: https://www.implantdentalbellevue.com or call Bellevue Implant & Cosmetic Dentistry at (425) 249-9186 for an appointment in our Bellevue office.
Check out what others are saying about our dental services on Yelp: Invisalign in Bellevue, WA.
---
Related Posts
March 25, 2017
Does Invisalign Really WorkInvisalign uses a series of clear plastic aligners that are customized to the teeth of each individual patient. Invisalign is discreet, so few will know you are wearing aligners. Start straightening your …