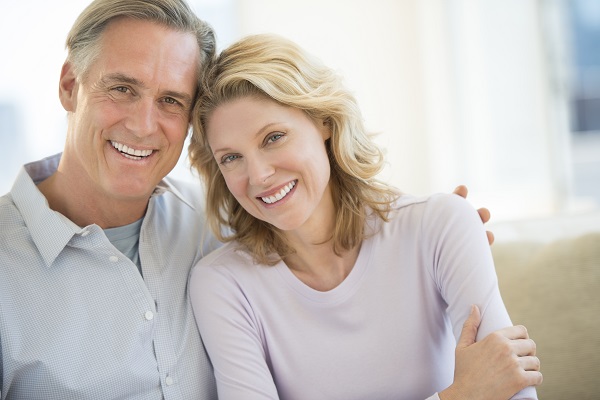 Dental implants are oral restorations that replace lost teeth roots, preventing the bone tissue breakdown that can take place when a tooth falls out of the mouth. Implants also serve as bases for restorations like crowns, dentures, and bridges to replace missing teeth.
Replacing lost teeth with dental implants
Placing an implant in a person's jaw requires minor oral surgery, so patients need to be healthy enough to recover. Health issues like diabetes or immune system disorders increase the risk of complications developing after implant surgery. Habits like drinking and smoking can also hinder the recovery process.
Patients are evaluated individually to determine if dental implants are right for them. The thickness of the patient's jawbone is also checked during the initial consultation to determine if the areas targeted for implants are strong enough to hold implants in place.
Bone grafts are typically recommended if a patient lacks the necessary bone tissues. The procedure involves transferring donor tissues to the areas that need to be thickened. It is an effective way to increase the depth of a patient's jawbone, but it can take up to three months to recover from it. Patients need to be fully recovered to proceed with the installation of implants.
The process
Local anesthetics are typically administered during the placement of implants. General anesthetics might be used if the patient needs several implants. The anesthetic numbs the area being worked on, so the patient does not feel significant pain as the dentist works.
The dentist might have to cut into the patient's gum tissues to access their jawbone. A hole is then drilled in the jaw, and the implant is pushed into it. Bone tissues around the implant keep it in place. The implant will fuse with these bone tissues over up to six months. The process is called osseointegration, and it turns the implant into part of the patient's jawbone, providing excellent stability.
Once the implant is fused in place, a restoration is placed on the implant to restore the lost tooth, which completes the process. In some cases, restorations are attached to implants on the same day that they are placed in the jaw.
Recovery after implant placement
It can take up to a couple of weeks to recover from the placement of implants. Patients typically experience slight soreness during the first 48 hours as their gum tissues recover from the procedure. Dentists recommend not brushing or flossing during this period because that can irritate the surgical site. Patients should also avoid using mouthwash during this period.
Saltwater solution can be used to clean the mouth during the first two days of recovery. Patients can start gently brushing their teeth afterward.
Patients should stick to only consuming liquids and soft foods until the dentist gives them the go-ahead to consume chewier foods. They should also avoid hot or spicy foods that can irritate the surgical site.
Any discomfort or inflammation that develops due to the surgical procedure should disappear within a few days. These side effects can typically be managed with over-the-counter painkillers.
Benefits
No other restoration compares to dental implants for replacing missing teeth. Benefits of choosing implants over other restorations include:
Implants give bone tissues in the jaw the stimulation that they need to remain healthy, and they do this by transferring bite forces into the jaw, prompting the creation of new bone tissues in the area
Implants look and function like natural teeth, so the only way to tell if a person has an implant is by performing an X-ray
Implants do not come with tiring maintenance requirements; for example, restorations like dentures need to be cleaned and soaked daily, but brushing and flossing teeth is all that implants need to stay in top condition
Implants prevent bone tissue loss when teeth fall out, because teeth tend to move toward gaps in the mouth to close them up, which moves them out of their proper alignment and leads to issues like a bad bite
Implants are designed to last a lifetime, and most people who get implants will never have to replace them because these artificial teeth roots are typically made out of titanium, one of the strongest metals in the world
Implants can replace natural teeth
With implants, you do not have to deal with annoying maintenance requirements or poor stability. You can get artificial teeth that look and feel just like the real ones that you lost. Give us a call or stop by our Bellevue clinic to set up an appointment with our dentist.
Request an appointment here: https://www.implantdentalbellevue.com or call Bellevue Implant & Cosmetic Dentistry at (425) 249-9186 for an appointment in our Bellevue office.
Check out what others are saying about our dental services on Yelp: Dental Implants in Bellevue, WA.
---
Related Posts
August 15, 2022
Dentists have been using dental implants for decades. Many of these dental professionals consider these restorations the gold standard in tooth replacements. Getting implants may be the most rewarding procedure you …