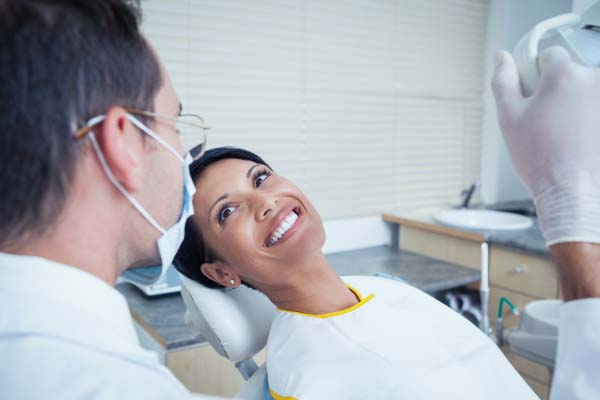 There are many questions people may have about general dentists and the need and use of dental crowns, or caps, to help restore compromised teeth. One of those concerns may be whether dentists can make the crowns in their own office or whether the job must be sent out to a laboratory that makes the crowns.
How are dentists involved in the crown making process?
As it turns out, the only crowns that a dentist makes in office are temporary crowns used to cover the tooth while technicians create the permanent crown in a lab. These temporary crowns are generally an acrylic-based material. So what, exactly, is a dentist's investment in the procedure?
Assess the need for a crown
There are several reasons why a crown may be a good solution. These include but may not be limited to hold a bridge in place, to cover teeth that are weakened and stained by antibiotic or tobacco usage, as a cap for a dental implant or to restore strength to a damaged or broken tooth. Also, to strengthen a cracked tooth, finish off a root canal or improve the appearance of a smile.
Preparing the mouth for the crown
A dentist may do a full exam including X-rays to determine the course of treatment. Once that is determined, a dentist can fill cavities, repair a tooth, perform a root canal, fix cracked or broken teeth or other problems, or grind a tooth down to a stump in order to prepare the mouth to receive a crown.
Suggest a particular type of crown
Each case is different, and each application for a crown is individual and custom. Depending on the location of the tooth, the extent of the underlying damage, and cosmetic considerations, general dentists may suggest different types of crowns.
Porcelain fused to metal – best for back teeth as a dark line of metal may show at the gum line. This type of crown is most commonly used for a bridge, as the metal lends strength to the span
Metals potentially including nickel, platinum, gold or a mix of alloys make for strong molars and work well for chewing tougher foods but cannot be colored to match adjacent teeth
All porcelain or ceramic – these may work for either front or back teeth and are especially helpful for people who have allergies to certain metals
Resin crowns – color may change over time, and they can wear down, losing their nice shape; however, they are less expensive
Stainless steel – strong and sturdy, a stainless crown can be used as a temporary or permanent cap for a very weak tooth or to prevent further decay while more preparation is done
Conclusion:
General dentists are able, in most cases, to take care of preparing a tooth to receive a crown, to create a temporary crown and seat it to protect a tooth, and to subsequently fit and adjust the permanent crown when it arrives from the laboratory. That is essentially one-stop dental for the patient, which makes getting a crown both an efficient and convenient process.
Are you considering General Dentists in the Bellevue area? Get more information at https://www.implantdentalbellevue.com.
Check out what others are saying about our services on Yelp: Read our Yelp reviews.
---
Related Posts
February 12, 2020
For those considering single tooth dental implant surgery for the first time, the procedure may seem unclear or overwhelming. This list of frequently asked questions will hopefully provide clarity and peace of mind to those …