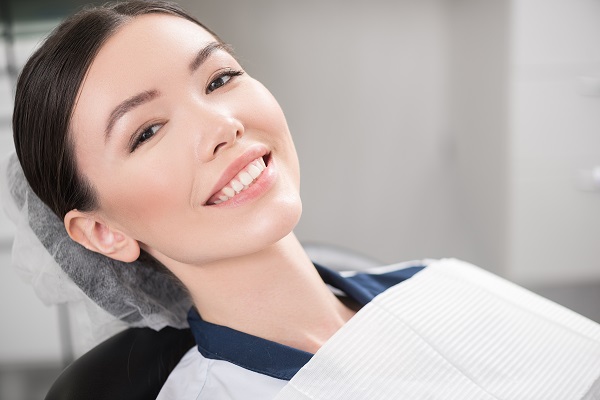 For those in need of teeth repair, seeing a cosmetic dentistry specialist offers a number of corrective solutions. Oral concerns can include cracked or chipped teeth, severe discoloration or uneven spacing between teeth. Cosmetic dentistry work can restore a healthy, beautiful smile.
5 types of repair solutions
Broken, chipped, or decayed teeth are something many adults deal with. Here are five leading cosmetic dentistry options.
1. Dental bonding
A tooth that has minor damage, such as a small piece of missing enamel, is usually a good candidate for dental bonding. Also referred to as a filling, this procedure uses a composite resin that has been colored to match the teeth to fill in the space. An ultraviolet light hardens the shaped material to the natural tooth to hold the filling in place.
2. Dental crowns
A cosmetic dentistry specialist may recommend a dental crown when the existing tooth and enamel have significant structural damage or weakness. Crowns are custom-fitted caps that fit tightly over a damaged tooth and are secured with a bonding cement. They are made from metal, porcelain-fused-to-metal, or all-ceramic, with the last growing in popularity because it is a natural-looking repair option due to the form and coloring.
3. Porcelain veneers
In this cosmetic dentistry procedure, a thin piece of custom-made porcelain material is securely bonded to existing teeth to create a uniform look. This is an option widely chosen for those who have gaps between their teeth or to repair heavy staining. Veneers are only applied to the front side of the teeth. Being approximately 1 millimeter or less in thickness, this corrective option is both practical and unobtrusive. The shells have strong stain resistance and are extremely durable.
4. Dental implants
Similar to a traditional crown, this option may be recommended where significant tooth decay or damage has occurred. If there is not enough natural tooth remaining to securely attach a crown, the tooth can be removed and an artificial root is implanted. This metal post or frame inserted into the jawbone becomes the foundation for either removable or permanent replacement teeth. This procedure results in a natural look that offers a lasting solution with few eating or speaking difficulties.
5. Dental bridges
When an entire tooth is missing from injury or when the damage is severe enough to require tooth extraction, a dental bridge is a cosmetic dentistry solution. In this process, the specialist suspends an artificial tooth between two real teeth and anchors it in place with dental crowns. The crowns are directly connected to the bridge replacement tooth to create a seamless look in the mouth.
Other common cosmetic concerns
In addition to repairing cracked or chipped teeth, cosmetic dentistry can also help with problems of discolored teeth, uneven or irregularly shaped teeth, or crooked teeth. Whiting, teeth straightening, and recontouring are just a few of the other corrective solutions.
Conclusion
Those who hope to improve the look of their smile can schedule an appointment with a cosmetic dentistry specialist. Find out which option is recommended to address the condition of your teeth.
Request an appointment here: https://www.implantdentalbellevue.com or call Bellevue Implant & Cosmetic Dentistry at (425) 249-9186 for an appointment in our Bellevue office.
Check out what others are saying about our services on Yelp: Cosmetic Dentistry Specialist in Bellevue, WA.
---
Related Posts
June 1, 2021
Cosmetic dentistry also addresses worn teeth. As you know, teeth become worn from years of use. Worn teeth tend to chip, crack, or become misshapen. Any patient would want to have a …