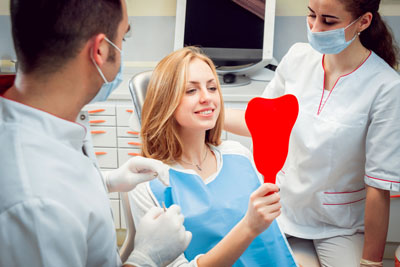 A cosmetic dentist can help you regain your confidence. A smile is a great social bonding gesture. Unfortunately, too many people are afraid to show the world their dazzling smile because their teeth are discolored or crooked.
If you find yourself holding back your smile or covering your mouth when you laugh because you don't want people to see your teeth, then you are the perfect candidate for a cosmetic dental procedure.
A cosmetic dentist can help restore your smile to its straight, white, beautiful best. Your dentist can give you a smile makeover that will make you look and feel younger, more attractive, and more confident.
The following are examples of what a cosmetic dentist can do for you and your smile:
1. Teeth whitening
This is a very simple and non-invasive procedure that gives you a more vibrant smile. Brown and yellow stains can make your teeth appear dirty, regardless of how thoroughly your brush them or how clean they feel. Your dentist will use a whitening agent, such as hydrogen peroxide, to break down the stains on your teeth and restore their bright ivory or white color.
2. Straighten crooked teeth
Very few people have perfectly straight teeth. However, most people do not like the pain or stigma associated with metal braces. Fortunately, your dentist can give you clear braces, which are plastic aligners that are almost invisible and that slightly shift your teeth without the discomfort of metal braces.
3. Reshape and contouring teeth
If your teeth are oddly shaped or too pointy, your dentist can use several techniques to help reshape them for a pleasing appearance. Contouring can also be used to change the length or shape of the teeth or correct problems with your bite. Porcelain veneers are commonly used for this procedure, as it is easy to shape them so they look exactly the way you and your dentist want.
4. Replace missing teeth
If you have gaps or several missing teeth, your dentist can restore your smile and improve your bite by replacing them with natural-looking teeth. Your dentist can replace your teeth using dental implants, dental crowns, dentures, and dental bridges.
5. Cosmetic bonding
Cosmetic bonding is a minimally-invasive procedure that uses a tooth-colored bonding material to reshape the teeth or repair chips and close small gaps. This procedure can be done in a single day, but the results often last many years.
6. Porcelain crowns
Porcelain crowns help restore and strengthen decayed and damaged teeth. These crowns are translucent and resemble natural teeth. The crown or cap covers the damaged tooth and helps recreate its form and function. One of the main advantages of porcelain crowns is that they are very durable, and can help protect the tooth from further damage.
7. Correct jagged or low gum lines
If you have a gummy smile or you feel your gum line is too jagged, a cosmetic dentist can use a soft tissue laser to reshape or even out the gum lines around your teeth. This dental procedure is quite simple and minimally invasive.
Call Bellevue Implant & Cosmetic Dentistry today
Advancements in modern dentistry ensure that anyone can get the perfect magazine-worthy smile. Whether you have a wedding or a class reunion, your cosmetic dentist can examine your teeth and help you put your best self forward with the confidence of a more radiant smile. Contact our Bellevue dental office at (425) 249-9186 to find out more about cosmetic dentistry.
---
Related Posts
July 1, 2022
Cosmetic dentistry refers to the field that focuses on improving the aesthetic appearance of one's smile while also preserving the health of the teeth and gums.What many do not know about …
---