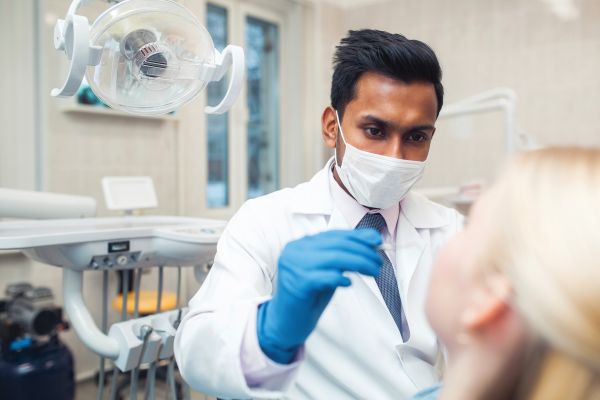 When a patient has a dental emergency, a general dentist is there to help. There are a number of possible dental emergencies patients may encounter, and they may be unsure of what to do and how to handle them.
What are common dental emergencies?
A dental emergency refers to a situation in which there is a mouth injury or infection. Situations that are emergencies include an abscess and a tooth or multiple teeth that have been cracked, broken or knocked out. Here are five of the most frequently asked questions.
1. What happens if a tooth cracks?
A tooth can crack when eating certain hard foods. If this occurs, patients should thoroughly rinse the mouth with warm water and contact a dentist whenever possible. Cold compresses on the face can help reduce swelling.
2. What can be done for a tooth that has been knocked out?
When an intact permanent tooth has been knocked out, a general dentist should be contacted immediately. It is important to keep the tooth moist and prevent it from drying out; placing the tooth in milk is recommended. It is also vital to avoid touching the root of the tooth as this can result in damaging cells and prevent reattachment. If possible, patients are advised to gently place the tooth back in the socket.
If a baby tooth is knocked out, a visit to the dentist is necessary to check for damage and to be sure there are no remnants of the tooth. Baby teeth cannot be re-implanted in the mouth.
3. What should be done for a fractured tooth?
There are varying degrees of tooth fractures; a minor fracture, such as a chipped tooth, is easy to repair. Some severe fractures, however, can cause irreparable damage. If a patient fractures a tooth, the mouth should be rinsed thoroughly with warm water and a cold compress can be placed on the cheek to reduce facial swelling. Ibuprofen can be taken to ease pain. A dentist should be contacted as soon as possible to restore the tooth.
4. What can be done for a tooth abscess?
A tooth abscess is a condition in which a pocket of pus develops in the tooth and causes an infection. This is a serious emergency and a dentist needs to be seen immediately. An abscess can cause a severe toothache, sensitivity to temperatures, swelling in the face and a fever. A warm salt water rinse can be performed before seeing a dentist.
5. How can dental emergencies be avoided?
Certain precautions, such as wearing a mouth guard to protect the teeth during sports and physical activities and being careful while chewing hard food, can prevent many dental emergencies. Practicing good oral hygiene can help prevent other serious issues.
Conclusion
A general dentist can help with a number of common dental emergencies. Whenever a patient has a dental emergency, it is important to always call the dentist and make an appointment.
Request an appointment here: https://www.implantdentalbellevue.com or call Bellevue Implant & Cosmetic Dentistry at (425) 249-9186 for an appointment in our Bellevue office.
Check out what others are saying about our services on Yelp: Read our Yelp reviews.
---
Related Posts
December 1, 2022
When you begin wearing dentures, you may experience discomfort for a short period while you are adjusting. However, this process does not have to be complicated. There are many ways to …