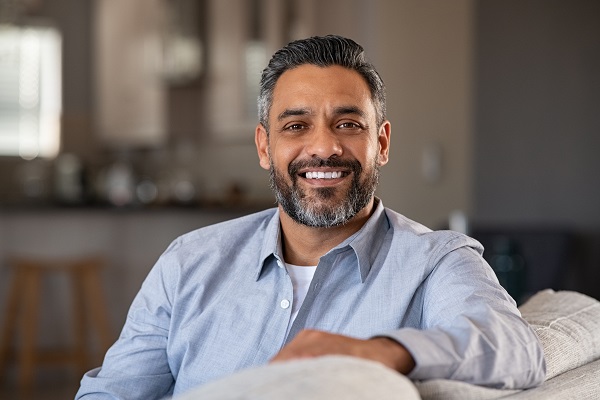 A restorative dentist is a dental professional that focuses on restorative dental care. This includes restoring the health, appearance, and function of teeth, the gums, and more after damage occurs from poor oral hygiene, general wear and tear, and dental trauma. Restorative dentists also offer cosmetic dental procedures as well as those primarily performed for restorative reasons.
Restorative dentistry: six common types of cosmetic dental procedures
The following are some of the more common services that restorative dentists perform that offer cosmetic benefits. Below is a more in-depth look at each one. Keep in mind that every restorative dentist has their own set of services and may not offer all of the cosmetic dental procedures listed below.
Teeth whitening
Teeth whitening is commonly associated with cosmetic dentists, but many restorative dentists offer teeth whitening treatment as well. Professional, in-office teeth whitening aims to restore the bright shade of teeth by removing stains and natural discoloration. Treatment is non-invasive and simply involves the careful application of a bleaching agent on the visible surface of teeth.
Dental veneers
Dental veneers, also called "Hollywood teeth" due to how prominent they are among entertainers, are layers of porcelain that are customized in a laboratory and carefully positioned over existing teeth to improve the shade, size, and overall appearance of natural teeth. They are durable and blend in with teeth for a natural look.
Dental bonding
Dental bonding, also called composite resin bonding, involves the application of composite resin (a tooth-colored dental material) to the visible surface of teeth to fix minor imperfections such as chips, cracks, worn-down enamel, short teeth, gaps between teeth, and more. It is similar to dental veneers, but they are more affordable and less permanent.
Dental crowns
Dental crowns are one of the more common restorations used in restorative dentistry. This is because they can address more severe types of damage by covering and protecting the entire tooth on all sides. Restorative dentists can offer tooth-colored dental crowns that offer optimal aesthetic benefits.
Dental fillings
Dental fillings are used to fill dental cavities. They most often are tooth-colored (if they are amalgam or composite fillings), which can restore the appearance of the patient's smile by filling in the dark spots left by cavities.
Teeth replacement
Many restorative dentists also offer teeth replacement services, such as fixed bridges, removable dentures, and dental implants. Teeth replacement is a great way to restore your smile after losing one or more teeth. During a consultation, a restorative dentist can explain the pros and cons of every teeth replacement option and help you make an informed decision about treatment.
Get in touch with our restorative dentist to schedule a visit
You can schedule a visit with our restorative dentist by giving us a call if you have questions or are interested in cosmetic dental procedures. Everyone deserves a beautiful and bright smile they are proud of, and our team can help ensure you have an aesthetically pleasing and healthy smile.
Request an appointment here: https://www.implantdentalbellevue.com or call Bellevue Implant & Cosmetic Dentistry at (425) 249-9186 for an appointment in our Bellevue office.
Check out what others are saying about our dental services on Yelp: Restorative Dentist in Bellevue, WA.
---
Related Posts
April 4, 2017
Restorative DentistryRestorative dentistry allows us to restore damage to teeth including teeth that are knocked out, cracked, chipped, broken and more. We will restore your teeth to a functional and natural-looking state.Restorative DentistryBellevue Implant & …